Stories Before 1850. 0224: W. F. Sullivan, Juvenile Sketches
| | |
| --- | --- |
| Author: | Sullivan, William Francis |
| Title: | Juvenile Sketches; or, the history of Mrs. Barton and her little family. Illustrated with some instructive stories for the youth of both sexes. By W. F. Sullivan, A.M. teacher of elocution and belles lettres |
| Cat. Number: | 0224 |
| Date: | 1818 |
| 1st Edition: | 1816? |
| Pub. Place: | London |
| Publisher: | A. K. Newman and Co. |
| Price: | 1s |
| Pages: | 1 vol., 56pp. |
| Size: | 17.5 x 10.5 cm |
| Illustrations: | Fold-out engraved frontispiece and two further full-page engravings |
| Note: | |
Images of all pages of this book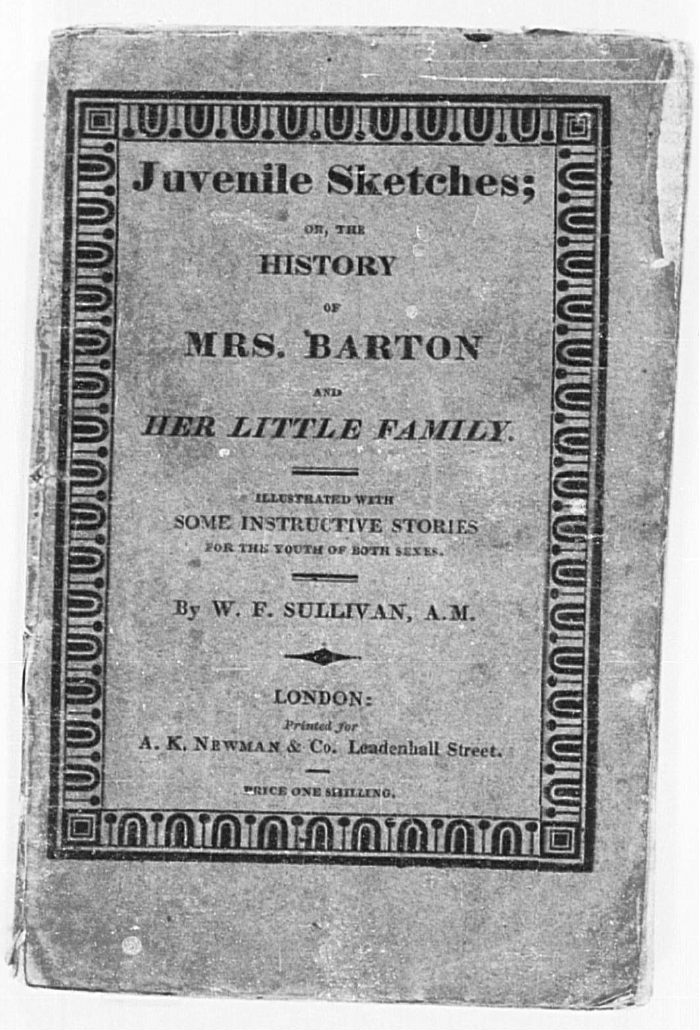 Introductory essay
Curiously, the fold-out frontispiece of the Hockliffe Collection of Juvenile Sketches appears to belong to a completely different book. Its subject - 'Emmalina presents a bunch of cherries to the stranger in the pretty green hat' - bears no relevance to the text of Juvenile Sketches, and the frontispiece of an earlier edition of the text in the British Library contains a completely different illustration, though also signed by Isaac Cruikshank, showing Tommy Goodlad returning to his humble cottage with the money he has just been given (see p.42). This British Library copy is dated 1817, which suggests that the Hockliffe version, dated 1818, is from a second edition. However, the text itself is identical in both versions, even to the extent that the signature footprints (or printer's marks) are in exactly the same places on the page. This implies that the book was not re-printed in 1818, but that existing stock was given a new title-page (and perhaps a new, and erroneous, frontispiece) and sold as if a new edition. The frontispiece to the 1817 edition, and the engravings which appear in both the British Library and Hockliffe versions, are all dated 2 December 1816.
The story of Julia and her mother, Mrs. Barton, which opens Juvenile Sketches, is really only the frame within which three short, improving stories are told to the reader. Mrs. Barton is a young widow, and when the book opens, she has moved with her daughter and her sister to a new home a few miles out of London. Julia is nine years old, is flighty and hasty and dislikes her strict aunt. It is to address these errors that Mrs. Barton tells the first two stories. We are told of Susan, who, like Julia, is too ardent and rushed in all that she does. When the folly of such behaviour is explained to her, Susan reforms, realising that if she takes pains over reading and her writing and her needlework, then time will be saved in the long run. Then we are told of Kitty Wayward (pictured opposite p.20 with her doll). Her mother, like Mrs. Barton is a young widow, and being inexperienced herself, she has a tendency to spoil her only daughter Kitty. Luckily, Kitty's uncle steps in and provides his niece with a harsher but more valuable education. He prevents her from eating cakes, showing her that even his dog will not eat such trash; and he makes Kitty work hard. At first she does not like it, and even tries to run away (pictured opposite p.21), and only narrowly does she escape the fate of many runaway children who 'have been run over by carriages of carts' or 'have been picked up by wicked women, who, under promises of restoring them to their parents, have decoyed them away, and stripped them and robbed them of every thing they had on.' (p.22) After three years of school Kitty 'had no longer that stunted, dwarfish appearance, that sickly smoke-dried look that the children brought up in London generally have', and she returns to London (p.27). Whilst her uncle welcomes her back, noting the changes in her behaviour as well as her appearance, her mother disowns her, for she has married again and has two children by her new husband. Besides, immersed in the fashionable world of London as she is, Kitty's mother finds her daughter 'dowdy', 'a coarse, country puss', and 'like a dairy-maid ... a downright vulgar fright' (pp.28-29). Kitty has had both her health and her morals improved during her stay in they country, and her she comes to value her uncle, though strict, as her truest friend.
The final tale is occasioned some money going missing from the kitchen of Mrs. Barton's house. While the servants accuse one another, Julia's brother Richard bursts in and admits that it was he who took the money. A poor labourer had just broken his leg in a fall from scaffolding at Richard's school, and he wished to give the money to the labourer's son. Richard's appropriation of somebody else's property is condemned, irrespective of his intent, and Mrs. Barton tells the story of little Tommy Goodlad, a poor boy who would not take the property of another though his family were in great distress. The story begins with Tommy asking for work from the local minister. Wary of impostors, the minister has someone follow Tommy home and listen to his conversation with his family (this is a wrong thing to do, Sullivan counsels his readers, but may be excused in this case since the minister had been imposed upon several times by those seeking charity. Sullivan even threatens the reader with the prospect of having their ears nailed to the door if they ever try to eavesdrop, against which a reader has written 'a lie' in the British Library copy of the book: p.42). Since Thomas is found to be an honest lad, the minister finds him work as a foot-boy to a businessman. Tommy gives good service, but is sorely tempted by the huge sums of money his master leaves lying around. As his father's condition worsens, Tommy is more and more tempted to steal, but his conscience always prevents him. At last, he gives in his notice, telling his employer that he cannot endure such temptation. His master recognises that it is he who has been in error in seeking to make a trial of Tommy's honesty, and he gives him not only his wages but a £50 reward for his honesty too. So, Mrs. Barton notes, honesty gets its reward, and Richard promises never to take what is not his ever again.
William Francis Sullivan (1756-1830) was the son of an eminent Irish jurist. He was educated at Trinity College, Dublin for a career in the Church. However, when his father died William joined the navy. He fought in the American War of Independence before taking up permanent residence in England in 1783 (Dictionary of National Biography). He wrote a variety of books over the following forty years. Flights of Fancy, a miscellany of prose and verse, appeared in 1792. An anti-Revolutionary play, 'The Rights of Man', which was probably never acted, appeared in the early 1790s, and a vigorously patriotic poem, The Test of Union and Loyalty, or the Long-Threatened French Invasion followed in 1803 (with a fourth edition within the year). Sullivan's many books for children came later. He published at least eleven moral tales between 1816 and 1821. Judging by the title-page to his books, he was by this time also a 'Teacher of Elocution and Belles Lettres'.
Other works by W. F. Sullivan in the Hockliffe Collection (0223-0228), also published by either A. K. Newman or his associates, Dean and Munday, all appeared before 1820, save The Orphans (0225) which probably dates from between 1823 and 1831. All share the same format, and the same high quality engravings by Cruikshank.
Lee, Stephen (ed.), Dictionary of National Biography, London: Smith, Elder, and Co., 1892 and after