Stories Before 1850. 0223: W. F. Sullivan, Emily and Henrietta
| | |
| --- | --- |
| Author: | Sullivan, William Francis |
| Title: | Emily and Henrietta; or, a cure for idleness. An improving tale for youth. Translated from the French by W. F. Sullivan, A.M. Teacher of Elocution and Belles Lettres |
| Cat. Number: | 0223 |
| Date: | 1818 |
| 1st Edition: | 1818 |
| Pub. Place: | London |
| Publisher: | A. K. Newman and Co., Leadenhall-Street |
| Price: | 1s |
| Pages: | 1 vol., 58pp. |
| Size: | 17 x 10.5 cm |
| Illustrations: | Two full-page engravings by Isaac Cruikshank |
| Note: | Inscription on the fly-leaf: 'Caroline McGrath. The gift of her dearest dearest Papa and Mama' |
Images of all pages of this book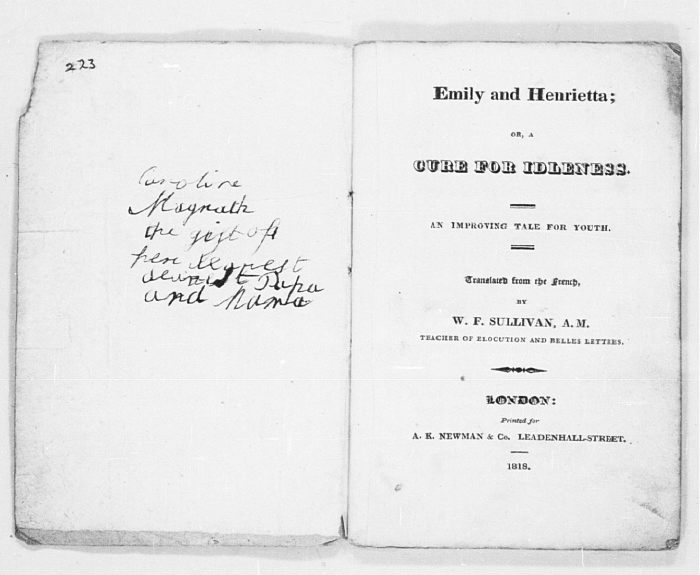 Introductory essay
The title-page of Emily and Henrietta acknowledges that W. F. Sullivan translated the text from the French. Perhaps his source was the writing for children of Madame de Genlis. Certainly Sullivan was appropriating the work of a writer much influenced by Jean-Jaques Rousseau, for many of Rousseau's themes are present here. A natural, rural and active upbringing is recommended, as opposed to the corruption, luxury and indolence of an urban childhood. And a charitable disposition is praised as the chief virtue to be inculcated in the young, rather than any more refined accomplishments.
Sullivan's reworking of his source is still set in France, with Emily, the daughter of a rich widow, resident in Paris as the story opens. She is spoiled by her mother, and as a result is lazy, unwilling to learn and scared of everything from spiders to travelling in coaches. Moreover, she is freqently in ill-health due to the tight-fitting clothes which her vanity prompts her to wear, and her unwholesome diet of 'cheesecakes, tarts, and confectionary'. Indeed, Emily soon falls into a life-threatening illness, and all the doctors despair of her life. Only one thinks he can cure her. This is Dr. Steinhaussen, a German physician, who demands total control over the patient. Reluctantly, Emily's mother agrees, and the doctor takes his patient to his farm in the countryside, personally to supervise her recovery.
At first, Emily is very unhappy. She has been deprived of her toys and her servants, and is forced to live in a cow-shed. Eventually, though, she comes to understand that she must renouce all her old luxuries and embark on a more active and useful life. This realisation is largely brought about by her growing friendship with Henrietta, Dr. Steinhaussen's daughter. She is an unaffected, charitable and energetic girl who always seems to be happy. They play at catching butterflies (pictured opposite p.22), and she offers to lend Emily her books - 'the conversations of Emilius' (i.e. Rousseau's Emile) and 'The Children's Friend ... translated from the German by Monsieur Berquin' (p.23: see 0060-0070 for the Hockliffe Collection's holdings of Berquin and a consideration of his L'ami des enfans, which was not, in fact, translated from German). What most impresses Emily about Henrietta is her benevolence. When a poor girl, Agatha, turns up at the farm, desperate to have the doctor examine her blind grandmother, it is because Henrietta has found out her distress and sent a coach to bring her. In the event, the grandmother's blindness is cured, and Agatha is thus free to marry, which she had refused to do beforehand for fear that her grandmother could not survive without her.
Soon, then, Emily is wholly reformed. When Dr. Steinhaussen is confident that she will no longer be corrupted by the iniquity of the city, she returns to Paris, only stopping to dispense some charity on the way (pictured oppostion p.52). Once in the metropolis, she continues to live an active and benevolent life. Though the Hockliffe copy of the text ends here, another edition, to be found in the British Library, contains an extra page. Here is very briefly described the purchase by Emily's mother of a country retreat near to Dr. Steinhaussen's farm, and of Emily's eventual marriage. It is very possible that this final page was once to be found in the Hockliffe copy of the text, and that it has been lost. After all, the Hockliffe copy also has no frontispiece, which is unusual for Sullivan's works, whereas the British Library edition does include a fold-out frontispiece (depicting the cure for Agatha's grandmother's blindness). The British Library copy is undated (although its engravings are dated 1 January 1818, like those in the Hockiffe's copy). Its title-page records the publisher as Dean and Munday rather than A. K. Newman. Since another of Sullivan's works in the Hockliffe Collection (namely 0226)is dated 1817 and was also published by Dean and Munday, its seems probable that the Hockliffe copy appeared slightly after the British Library version.
William Francis Sullivan (1756-1830) was the son of an eminent Irish jurist. He was educated at Trinity College, Dublin for a career in the Church. However, when his father died William joined the navy. He fought in the American War of Independence before taking up permanent residence in England in 1783 (Dictionary of National Biography). He wrote a variety of books over the following forty years. Flights of Fancy, a miscellany of prose and verse, appeared in 1792. An anti-Revolutionary play, 'The Rights of Man', which was probably never acted, appeared in the early 1790s, and a vigorously patriotic poem, The Test of Union and Loyalty, or the Long-Threatened French Invasion followed in 1803 (with a fourth edition within the year). Sullivan's many books for children came later. He published at least eleven moral tales between 1816 and 1821. Judging by the title-page to his books, he was by this time also a 'Teacher of Elocution and Belles Lettres'.
Other works by W. F. Sullivan in the Hockliffe Collection (0223-0228), also published by either A. K. Newman or his associates, Dean and Munday, all appeared before 1820, save The Orphans (0225) which probably dates from between 1823 and 1831. All share the same format, and the same high quality engravings by Isaac Cruikshank.
Lee, Stephen (ed.), Dictionary of National Biography, London: Smith, Elder, and Co., 1892 and after