Poetry, Verse and Rhymes; Games. 0777: Ann and Jane Taylor, Signor Topsy-Turvy's Wonderful Magic Lantern
| | |
| --- | --- |
| Author: | Taylor, Jane and Ann (later Gilbert) |
| Title: | Signor Topsy-Turvy's wonderful magic lantern; or, the world turned upside down. By the author of 'My Mother', and other poems. Illustrated with twenty-four engravings |
| Cat. Number: | 0777 |
| Date: | 1810 |
| 1st Edition: | |
| Pub. Place: | London |
| Publisher: | Tabart and Co. at the Juvenile and School Library, No.157, New Bond-Street; and to be had of all booksellers |
| Price: | 3s 6d bound |
| Pages: | 1 vol., 71pp |
| Size: | 13 x 10.5 cm |
| Illustrations: | Frontispiece plus 23 further engravings |
| Note: | Inscription crossed out on inside front cover |
Images of all pages of this book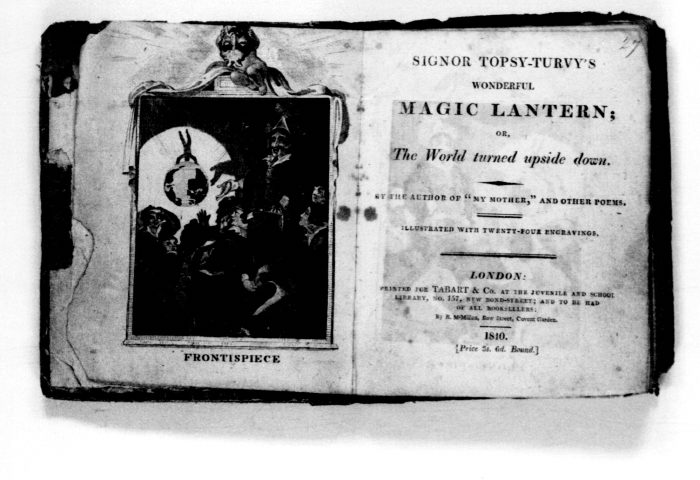 Introductory essay
It is difficult to dissent from Marjorie Moon's assertion that Signor Topsy-Turvy's wonderful magic lantern is 'an excellent production.' (Moon 1990: 126) The text is amusing and varied, and never palls for the duration of its 71 pages. For their part, the illustrations (possibly by Isaac Taylor the younger) are both imaginatively designed and impressively engraved. The image of a farrier being shoed by a horse opposite p.23, for example, is amusing and alarming in equal measure. The depiction of the attempted purloining of The Monument (commemorating the origin of the Great Fire of London in 1666, opposite p.50) is really rather daring in its use of perspective and its representation of the ludicrous. And, to take just one further example, the fairy personification of the Green Earth who appears to the Discontented Violet (opposite p.34) seems ahead of its time in both thematic and stylistic ways.
In fact, the engravings are an integral part of the book. There is one to accompany each of the 23 separate poems, although in fact, it is always the poems which elaborate on the plates. This had been the case for all the 'World Turned Upside Down' chapbooks which seem to have been popular throughout the eighteenth century (though few survive). Such works took an absurd concept - a dog playing a flute, a man attempting to swallow himself, a goat becoming a Jewish old clothes seller - and presented the reader with a wood-cut image, a verse to explain the scene, and perhaps another to offer a moral or an apposite joke. Thus, in an edition of The World Turned Upside Down published by J. Kendrew of York in c.1830, the man attempting to eat himself remarks 'If I once get my legs in/As far as my knees,/The rest will slip down/With a great deal of ease', and the goat dealing in old clothes remarks 'Tis alvays my vay,/To cheat ven I can,/Yet for all that I be/A very goot man', thus eliding a familiar anti-Semitism with a pun on good/goat when pronounced in a supposedly Jewish accent.
The centrality of the images is also wholly in keeping with the overall conceit of the book, as set out in the 'Introduction' and frontispiece. The book's images purport to come from the magic lantern show of Signor Topsy-Turvy, a man unable to work out how to display his slides the right way up, but whose audience valued them much more when they were upside down. Just as Signor Tupsy-Turvy's audience loved his ridiculous images, so the authors were relying on the appeal of the preposterous to secure a readership for their book.
Surprisingly though, Signor Topsy-Turvy's Wonderful Magic Lantern was apparently not a great success. Apart from a partial American reprinting in 1811, the book was never published again, in stark contrast to most of the rest of the Taylor sisters' oeuvre. This is probably in some way connected with the fact that Benjamin Tabart, the book's publisher, was declared bankrupt in 1810, the very year of Signor Topsy-Turvy's publication (Moon 1990: 9). It still seems surprising that such an appealing work - at least to modern audiences - was not taken up by a new publisher. It is possible that the work was a little too anarchic for contemporary audiences. Certainly, when taken at face value, the central theme of the work - the inversion of the normal hierarchies of society - was more subversive than the standard content of early nineteenth century children's literature. Many of the episodes deal with rebellions against the prevailing social order. The hare in 'The Cook Cooked', enraged by the idea that 'hares should be nutrition', 'brew'd sedition' and fomented a conspiracy of all the other animals in the larder (p.8). Likewise, a squirrel in 'The Fish Turned Fishers', hearing the cruelties inflicted by man, was no longer able to contain his wrath but organised a revolutionary army to fight for freedom from tyranny (p.15). Perhaps this was all a little too ticklish a subject for the guardians of children's literature in the years after the crisis engendered by the French Revolution.
On the other hand, most of the episodes in Signor Topsy-Turvy's wonderful magic lantern are more gently satirical, or even rather moral. 'The Feather Turned Finery' launches a fairly standard attack on the vanity of the fashionable by reporting a conversation between an ostrich and a silk-worm. How laughable it is, they say, that the feathers and silk they discard are made into the gowns and head-dresses from which humans draw their sense of self-worth (p.11). 'The Monkey Turned Beau' makes much the same point (p.17). Meanwhile, 'Children at War, and Cats and Dogs at Peace' attempted to shame children into good behaviour. Their querulousness was as every bit as ludicrous as a the inversions featured in other episodes - a monkey thinking himself a beau, say, or a fish desiring to get out of the water (p.40). 'A Little Lady in a Great Fright' is another moral tale crammed into the form of a seven stanza poem. It is as preposterous that a woman should be afraid of a spider as it is that a man should pull his horse along, or a house should be turned upside down (p.46).
If such a miscellaneous collection of episodes have one recurring theme, it is the rather conservative idea that one should not try to get above one's proper station. In 'The Bee Turned Drone' (p.29) and 'The Ass Turned Miller' (p.25) those who seek to assume their betters' position are beaten severely for their impudence. The moral from 'The Boy Turned Giant', in which a boy's wish that he grow tall enough to retrieve his kite is granted, might stand for many of the 'tales': 'Whate'er thy station, be content,/Nor wish to change a good in hand,/For things you do not understand.' (p.56) Yet this moralising is not always present. In 'The Horse Turned Driver', the 'poor looking hack' manages to get her groom into the harness without any word of rebuke from the authors (p.32). And the morals of these fables, when they are drawn, are light-hearted and much less stern even than Aesop's. Indeed, the abiding tone of the book is jocular. 'Servants Turned Masters' deals with the potentially problematic subject of cattle enslaving their human former masters. One only has to remember George Orwell's Animal Farm to see what serious purposes could be achieved with this kind of material. But the conversation between the oxen is genuinely humorous and we are even told that it will be a difficult matter to forge a moral to suit the tale (p.44). Other episodes border on nonsense verse, like 'The Ass Turned Elephant', which posits the borrowing of the elephant's trunk by an ass who feels that nobody takes him seriously. His owner's refusal to be taken in by the ass's new appendage is delightful, as is the accompanying engraving (p.60). The final 'tale' in the book, 'Birds Turned Fowlers' (p.68), opening with a humorous debate between various birds, reminds us that the book is far more a sibling of William Roscoe's Butterfly's Ball (see 0835 and 0836A) than it is an ancestor of Animal Farm.
Signor Topsy-Turvy's wonderful magic lantern was commissioned by Benjamin Tabart. He wrote to the Taylor family asking if Ann (1782-1866) and Jane (1783-1824) would care to update the traditional 'World Turned Upside Down' format. They agreed. They took at least ten of the standard episodes from previous versions of 'The World Turned Upside Down' and reworked them for Signor Topsy-Turvy. The rest were apparently new inventions. By this time the two Taylor sisters were already established as major children's authors, famous for their moral but affable children's poetry. In fact, their first major work had been published only six years before. This was Original Poems, for Infant Minds, the first volume of which was published in 1804 (0851-0853) with the second following in 1805 (0854). This too was a commission. Both Ann and Jane had had their first poems published in the Minor's Pocket Book, and they came respectively first and second in a poetry competition run by the annual, with works called 'The Beggar Boy' and 'The Cripple Child's Complaint'. William Darton, publisher of the Minor's Pocket Book wrote to their father with an offer that the two combine to produce a longer book of poems. The result was Original Poems, for Infant Minds, although Darton added a number of poems by John O'Keeffe, Bernard Barton and others to fill out the volume. Interestingly, Tabart may have done the same with Signor Topsy-Turvy. Eleven of the poems are signed 'J' (for Jane Taylor); nine, plus the 'Introduction' are signed 'A' (for Ann); two are unsigned; and two are signed 'T'.
Original Poems, for Infant Minds was the first genuinely successful collection of poems for children since Isaac Watt's Divine Songs had appeared in 1715 (0462-0465). It remained in print long into the century. The Taylor sisters went on to produce many other equally successful works, all for children. (It has been suggested that the Taylors were the first authors of a children's classic who wrote only for children.) Rural Scenes; or, A Peep Into the Country appeared in 1805 (0985), then Rhymes for the Nursery in 1806, including 'Twinkle twinkle little star' along with many early cautionary tales (0855-0856), and Ann published Wedding Among the Flowers in 1808, a poem in the style of Roscoe's Butterfly's Ball. Both sisters contributed to Hymns for Infant Minds, which appeared in 1810 (0445-0447), and to City Scenes; or, A Peep into London, published in 1809 (1058). The Hockliffe Collection's one other work by the Taylors - though there were more besides - was Correspondence between a mother and her daughter at school (0231).
Besides Ann and Jane, most of the other members of their family, well-known as the 'Taylors of Ongar', were also children's authors. Ann and Jane's father, Isaac Taylor, a nonconformist minister and engraver, was the author of many celebrated books. His Scenes in Africa (1054), Scenes in Europe (1055) and Scenes of Commerce (1056) are all in the Hockliffe Collection. His sons Isaac and Jefferys wrote The Natural History of Enthusiasm (1829) and Aesop in Rhyme (1820) respectively. It is probable that Isaac the younger engraved the plates for Ann and Jane's Signor Topsy-Turvy, although both sisters were also trained as engravers and assisted their father in his work. Isaac senior's father had been a pioneer of engraving for books, working closely with Thomas Bewick.
Ann married Joseph Gilbert, a Congregationalist minister, in 1813, and she moved away from her family to Nottingham. For a time this brought at end to her writing career. Jane remained unmarried and continued to write, but she died early at the age of 41. For more on the Taylor sisters see Overmeir 1996 and Carpenter and Prichard, 1984.
Moon, Marjorie, Benjamin Tabart's Juvenile Library. A Bibliography of books for children published, written, edited and sold by Mr. Tabart, 1801-1820, Winchester, Hants. and Detroit, 1990
Moon, Marjorie, Benjamin Tabart's Juvenile Library. A Bibliography of books for children published, written, edited and sold by Mr. Tabart, 1801-1820, Winchester, Hants. and Detroit, 1990
Overmeir, Judith A., 'Ann Taylor and Jane Taylor', pp.292-96 in The Dictionary of Literary Biography, vol.163: 'British Children's Writers 1800-1880', ed. Meena Khorana, Detroit, MI.: Gale Research Inc., 1996
Carpenter, Humphrey & Pritchard, Mari, The Oxford Companion to Children's Literature, Oxford: OUP, 1984