Poetry, Verse and Rhymes; Games. 0787: Anon., The History of Tom Thumb
| | |
| --- | --- |
| Author: | Anon. |
| Title: | The history of Tom Thumb |
| Cat. Number: | 0787 |
| Date: | No date but c.1835? |
| 1st Edition: | |
| Pub. Place: | Banbury |
| Publisher: | J. G. Rusher |
| Price: | |
| Pages: | 1 vol., 15pp |
| Size: | 9 x 6 cm |
| Illustrations: | 14 wood-cuts |
| Note: | |
Images of all pages of this book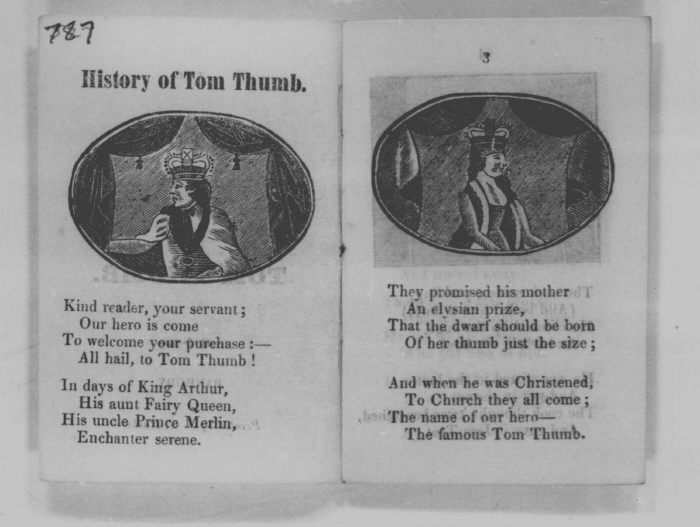 Introductory essay
Versions of the Tom Thumb story had been in print from the sixteenth century onwards in Britain and elsewhere. This version manages to retain most of the main features of the tale, including the Arthurian setting and the majority of his adventures. Tom's escape from the cow which has eaten him is effected when he falls from its mouth and not, as in the earlier versions, through the use of a laxative. Tom's death, when he fights with a spider, is also retained to round off the story. His lavish tomb is shown on the outside back cover.
For other early nineteenth-century versions of the story see 0044 and one of the stories in Harris's Popular Tales (0036).
Rusher's of Banbury was a leading producer of chapbooks, but one about whom little is known. John Golby Rusher (1784-1877) succeeded his father William (1759-1849) in his printing business, and established Banbury as an important publishing centre. He was still printing as late as 1872. Beyond this meagre data, we have only Rusher's own description of his enterprise to go on. His own Galloping Guide to the ABC contains this verse :
At RUSHER'S fam'd Warehouse,
Books, Pictures and Toys,
Are selling to please all
The good Girls and Boys:
For youth of all ages
There's plenty in store,
Amusement, instruction,
For rich and for poor. (Stockham 1980, 29)
For other texts in the Hockliffe Collection published by Rusher see 0012, 0022, 0083, 0084, 0093, 0112, 0474, 0475, 0476, 0679, 0682 and 0689.
Stockham, Peter, 'On Selling Children's Books', The Private Library, 3rd ser., 3, i (Spring 1980), 21-36