Fables and Fairy Tales. 0036: Popular Tales
| | |
| --- | --- |
| Author: | Various authors |
| Title: | Popular tales. Consisting of Jack the Giant-Killer, Whittington and His Cat, Tom Thumb, Robin Hood, and Beauty and the Beast. Embellished with engravings |
| Cat. Number: | 0036 |
| Date: | 1810 |
| 1st Edition: | |
| Pub. Place: | London |
| Publisher: | J. Harris, successor to E. Newbery, at the Original Juvenile Library, Corner of St. Paul's Church-Yard |
| Price: | Unknown |
| Pages: | 1 vol., 107pp. plus one page of advertisements |
| Size: | 13 x 8 cm |
| Illustrations: | Frontispiece plus 5 further engravings |
| Note: | |
Images of all pages of this book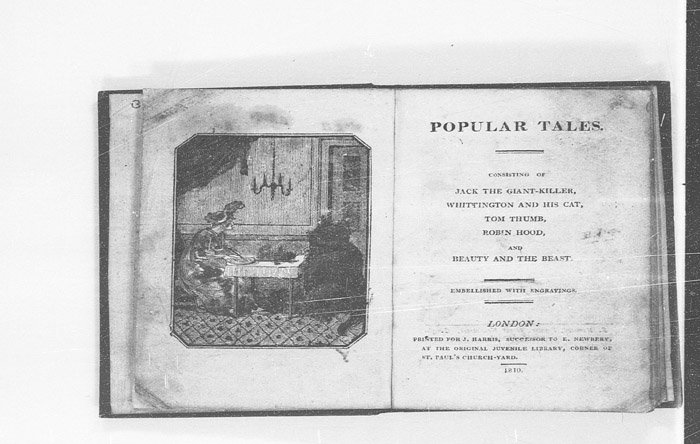 Introductory essay
John Harris seems to have attempted to cash in on a developing vogue for popular stories with this publication of 1810. It came hard on the heels of Benjamin Tabart's series of 'Popular Stories' (see 0043) which had done much to make fairy tales and traditional stories respectable reading for children. Tabart's series had come to an end in 1809, for reasons which are not altogether clear, and his firm had gone bankrupt within a year. It may be that Harris was attempting to pick up his mantle as the publisher of well-produced editions of the sort of popular stories which fill this volume. This is the only known edition of the work, so it seems doubtful that Harris's Popular Tales had the impact he would have hoped for.
In the early nineteenth century, John Harris was already one of the pre-eminent publishers of children's literature in Britain. As late as 1810, as the advertisement at the end of this volume shows, he was proud to be descended from the man generally thought of as the founding father of modern children's literature, John Newbery. He was descended not by blood, but by the lineage of his business. Upon John Newbery's death, his pioneering enterprise had been taken on by both his son, Francis, and his nephew, also called Francis Newbery. When Francis the nephew died in 1780, his, more flourishing, business had passed on to his widow Elizabeth. John Harris had been her business manager, and succeeded her in 1801. He continued to trade in the shop which had been used by the Newberys, at the corner of St. Paul's Church-yard in London, and he was still dealing in patent medicines alongside children's books, a parallel line of merchandise which John Newbery had begun. Harris's grandson was even given the name John Newbery Harris.
Like Newbery, Harris was an innovator in children's publishing. His name is associated with some of the greatest publishing successes of the early nineteenth century, many of which have been praised as powerful weapons in the fight of the champions of the imagination against the 'kill-joys' who sought to impose a strict and sententious morality on children's reading. (This is certainly the view of Harris's bibliographer, Marjorie Moon, whose John Harris's Books for Youth 1801-1843 remains the standard source for information on Harris's career and publications.) Amongst many other works, Harris published the very influential Comic Adventures of Old Mother Hubbard and her Dog in 1805 (see 0095A) and, at around the same time, an equally influential book of nursery rhymes, Original Ditties for the Nursery (0693). Elizabeth Turner's The Daisy (0867 to 0870) and The Cowslip (0864-0866), published in 1807 and 1811 respectively, were highly successful books of cautionary tales, and The History of Sixteen Wonderful Old Women first published in 1820 was perhaps the first ever book of limericks. Most successful of all were Harris's editions of The Butterfly's Ball (0835-0836) and The Peacock 'At Home' (0835, 0569, 0762) which first appeared in 1807 and sold in vast numbers.
In such company the Popular Tales do not seem particularly out of place, but it should be remembered that fairy tales and chapbook stories were still frowned upon by many self-styled guardians of children's literature. Most famously, Sarah Trimmer, much of whose work Harris published, disapproved of them, but her complaints simply enlarged upon those of many other before her, all the way back to John Locke. Their objections were that such tales frightened children, that they encouraged superstition and undermined the primacy of Christianity, and that they were simply not useful enough in teaching children how to behave. Additionally, popular tales like these were doubtlessly regarded as rather vulgar and associated with the lower orders. Children's literature, as it had developed since John Newbery's time, was founded on the idea that good children's books could help the child who read them to rise above such humble connections. By 1810, however, the popular story was becoming more respectable, partly through the publishing initiatives of firms such as Harris's and Tabart's, and partly because fairy tales and chapbook stories were appearing with great success on the London stage. The tales collected here, for instance, were to form the staple of pantomime entertainment for the rest of the nineteenth century.
Despite the fact that of the five tales featured in this volume, only one, Beauty and the Beast, has a certain and known origin, they had all achieved a standard format by the time Harris republished them. Beauty and the Beast had first appeared in English in 1757 in a translation by Madame Le Prince de Beaumont of her own French tale. The text reprinted here by Harris is almost identical to that of Le Prince de Beaumont and to that used by the other edition of the story in the Hockliffe Collection (see 0008). Its wood-cuts are different, and not up to the standard of Harris's usual illustrations which were famous for their high quality design and colouring. The other four tales in Harris's volume have very obscure origins. They all derive from traditional British folk tales, with certain aspects of all of them common to various other national traditions. This is even true of the story of Sir Richard Whittington which, although it was based on a late thirteenth and early fourteenth century historical figure, has several elements in common with a number of European and Persian stories (notably the cat - see Carpenter 1984, 148). Dick Whittington was certainly in print as a play and as a ballad by 1605, but it had probably existed well before that. The 1605 ballad was possibly by Richard Johnson (?1573-?1659), author of numerous pieces of popular literature including The Seven Champions of Christendom and (probably) a prose version of The History of Tom Thumbe ... by R.J. which was in print by 1621 at the latest. By the end of the seventeenth century the story of Tom Thumb had developed into a series of set episodes which are reproduced here in Harris's edition, but in an abbreviated form. The tale is slightly bowdlerised too. Tom escapes from the cow which has swallowed him not by the use of a laxative, as had been common in early versions, but by unspecified 'comical tricks'. Most obviously, the version of the tale published by Harris has a moral appended. Tom's parents had gone to Merlin because they were desperate to have a child. But the rather ill-fitting moral informs the reader that 'The farmer and his wife had no right to wish for a son, unless Providence had given them one', the result being that Tom had led a troublesome life and had met an unnatural death. In Harris's edition the tale became a fable, the lesson being that all people, 'whether parents or children' should 'be content with such things as they have (p.54). Jack the Giant-Killer and Robin Hood might consider themselves fortunate to have escaped such heavy-handed moralising. (For more on the literary origins of 'Jack the Giant-Killer' and 'Tom Thumb', see Opie 1980, 58-82 and 36-57.)
It is testament to the renewed popularity of these tales in the early nineteenth century that the Hockliffe Collection has several examples of each. Jack the Giant-Killer can be found in various forms, verse and prose, short and long, at 0020, 0022, 0023, 0037 and 0032. The adventures of Robin Hood can be followed at 0043 and 0714. Dick Whittington's story can be traced at 0043, 0048, 0122, or in French at 0047. And Tom Thumb's life-story can be read, with or without a moral, at 0044 and 0045.
Moon, Marjorie, Benjamin Tabart's Juvenile Library. A Bibliography of books for children published, written, edited and sold by Mr. Tabart, 1801-1820, Winchester, Hants. and Detroit, 1990
Carpenter, Humphrey & Pritchard, Mari, The Oxford Companion to Children's Literature, Oxford: OUP, 1984
Opie, Peter and Iona, The Classic Fairy Tales, Oxford: Oxford University Press, 1974, rpt. London, 1980