Stories Before 1850. 0106: Mary (Belson) Elliott, The Orphan Boy; or, A Journey to Bath
| | |
| --- | --- |
| Author: | Elliott, Mary (née Belson) |
| Title: | The Orphan Boy; or, A Journey to Bath; to which is added, The Orphan Girl. Founded on Facts. By Mary Belson ... A New Edition |
| Cat. Number: | 0106 |
| Date: | 1818 |
| 1st Edition: | 1812 |
| Pub. Place: | London |
| Publisher: | W. Darton, 58, Holborn Hill |
| Price: | Unknown |
| Pages: | 1 vol., 119pp. plus 7 pages of advertisements |
| Size: | 14 x 8.5 cm |
| Illustrations: | Frontispiece plus one further wood engraving |
| Note: | |
Images of all pages of this book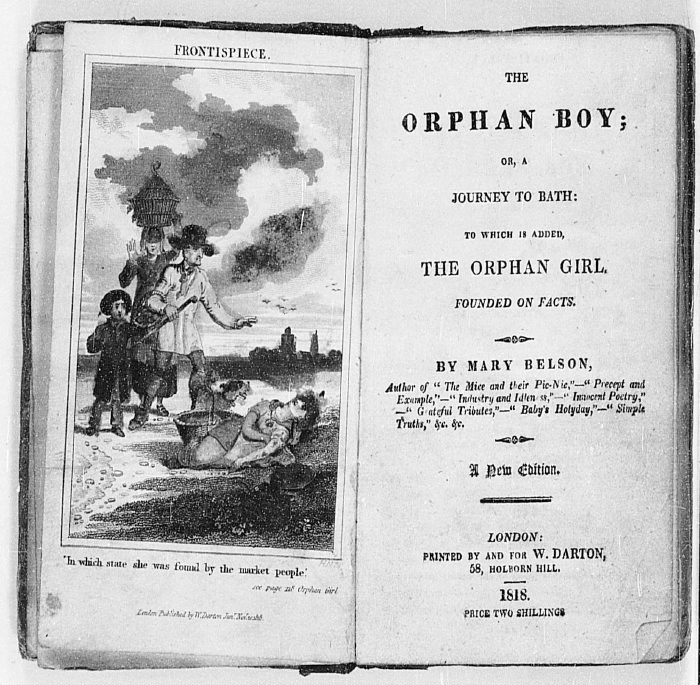 Introductory essay
For synopses see below.
Mary Elliott (1794?-1870), who often wrote under her maiden name of Belson, was a prolific author of children's books in the first decades of the nineteenth century. Almost nothing besides the date of her marriage - 1819 - is known about her. The Orphan Boy was first published as early as 1812, though it was by no means one of her first publications. It remained her most celebrated work. It went through at least five British and two American editions, and was still in her publisher's catalogue in 1849 (Moon 1987b: 70-73 and xxviii).
The narrative, tone of the writing, and cast of characters - the protagonists all come from the gentry - are essentially those of a novel, and seems eminently suitable for adults, save that every so often, a lecture is inserted. At first these lectures are prompted by some slight impropriety in the behaviour Mrs. Manchester's younger daughter, Frances. Thus, for instance, the elder sister, Julia, tells Frances that she should not laugh at the country women for their amusing lack of any sense of fashion (pp.15-16), and Mrs. Manchester tells Frances that she must not judge people only by their appearances (pp.26-27). Despite these rebukes to the children from their mother, they are themselves much superior in virtue to the other children they come across. Caroline and Charles Bentley, for example, whom they befriend at Bath, are proud, vain and in love with wealth. They are amazed to find that Lord Thornbury, a man who lives in the most luxurious style, is Julia and Frances's uncle. But they are more amazed to find that the Manchester sisters do not revere him as they do for his riches, but prefer another uncle, though he is only a merchant (pp.41-42). Caroline, once she is taken in by Mrs. Manchester, becomes the new butt of the author's lessons. She is arraigned, for the benefit of the reader, for a number of lapses in politeness - for her prejudice, for example, in believing that the Irish are all prone to blunders and nonsense (p.62). Indeed, the impropriety of laughing at the Irish seems a principal theme of the entire book.
As the narrative nears its end it picks up pace and the lectures decrease in prominence. Charles' haughtiness is still a subject for regret, but over the last twenty or so pages, as the various strands of the plot are being unraveled, the book seems to break free from the usual trammels of the moral tale. By the end of the tale, the very anodyne moral - that Providence works in mysterious ways (p.98) - seems more in keeping with a popular novel than the new, often ponderously instructional, children's literature. Indeed, the second tale in the volume - The Orphan Girl - conforms to a much greater extent with the approved model of the moral tale. Its narrative, such as it is, is wholly dedicated to the lesson that charity is more important than self-indulgence (see below for synopsis).
For other titles by Mary Elliott in the Hockliffe Collection see 0105, 0540, 0541, 0732 and 0768. For a checklist of Elliott's work, see Marjorie Moon's The Children's Books of Mary (Belson) Elliott Blending Sound Christian Principles with Cheerful Cultivation.
Synopses
The Orphan Boy
It is 1808. Mrs. Manchester, along with her two daughters and two servants, are travelling to Bath, where Mrs. Manchester hopes to take the waters to sooth her rheumatism. Overtaken by weariness, the party stops at an inn, 'The Greyhound'. There, the landlady, a Mrs. Dobson, recognises Mrs. Manchester for the kindly, compassionate woman that she is, and tells her the story of her own family, and, in particular, of the foundling boy, Denny. This baby had been taken in by Mrs. Dobson after his only guardian, a mysterious Irishman apparently named Denny himself, had been killed in a coaching accident. Nothing more is known about the boy's background. Mrs. Manchester offers to take Denny off the hands of the impecunious landlady, who has a large family of her own to support. Though sad, Mrs. Dobson agrees, and Denny travels to Bath.
In Bath, Julia and Frances, the two daughters of Mrs. Manchester, make friends with Charles and Caroline Bentley, the children of a rich, widowed nabob, recently returned from India. He has neglected the education of his children and spoiled them by indulging all their wishes. Charles is especially haughty, and proud of his wealth. He despises the Manchesters until he discovers their aristocratic connections. Caroline admires the sweetness and integrity of Julia and Frances, and begs that they will take her in so that she too can learn from their mother. Mrs. Manchester agrees, and Caroline's behaviour improves as her education is taken in hand. Charles is to be sent off to Westminster School, and Caroline is to accompany the Manchesters to their estate in Wales. Before they leave, we hear the story of Charles's bad treatment of his valet, Patrick McGowan. So contemptuously did Charles treat him that he ran off, but he has returned to confront Charles. An altercation has ensued between Patrick and his former master in which the former laid out the latter on the ground. At dinner later that day, with the Bentleys and Manchesters all present, Patrick bursts in, once more attempting to confront Charles. Although Charles remains unrepentant, Caroline apologies for her former disrespectful treatment of Patrick, and her father offers him the chance to re-enter service as her personal servant. He agrees.
Just then, he notices the shawl in which Denny was found, which Mrs. Manchester has been exhibiting to the company. Patrick recognises it as belonging to his mother. This leads to an extended éclaircissement. The assembled company discover that Denny's real name is Arthur Edmonds. He is the son of an Irishwoman and her husband, an English soldier. Just after Arthur's birth, his father died at sea on his way to India, the news of which caused his mother to die soon after. Arthur was entrusted to his nurse, Patrick's mother, who attempted in vain to contact any of Arthur's relations. Her husband, Denny McGowan undertook to accompany the baby to England in the hope of finding there the boy's uncle, who was reported to have just arrived from India. Denny McGowan died in a coaching accident, as the reader knows and Patrick now learns, and the boy was taken in by the landlady of the Greyhound. When his father did not return, Patrick followed him to England. Patrick found work in various places until, one day, passing the river in Bath, he saw Charles fall in. Though Charles had already teased Patrick for being Irish, Patrick rescued the drowning boy (pictured opposite p.89). Patrick was taken into service by Charles' father, but finding that he was ill-used, he ran away. He has been seeking a new position in Bath, but without references this has proved difficult. He was about to be taken on as a servant but found that his new master has been told that he, Patrick, is a thief. Patrick thinks Charles responsible for this slander, which is why he has been trying to confront him.
Within a few days, Arthur's uncle, Colonel Edmonds, has been located and summoned to Bath to meet his long-lost nephew. The Colonel is very rich, and having acknowledged the veracity of Arthur's claim, he sets about rewarding those who have taken care of the boy. To Mrs. Dobson, the inn-keeper, he gives a new, well-established inn. To Patrick's mother he gives an annuity, and while Patrick at first fulfils his agreement to work as Caroline's personal servant, he is later to be taken on by Colonel Edmonds himself. Caroline, Julia and Frances grow up together, happy and good, and only Charles remains unhappy, even at school, where his pride wins him no friends.
The Orphan Girl
Emily Mason is the daughter of a minor character from The Orphan Boy. As the story opens, she is with her aunt, Mrs. Hastings, in a Bond Street shop, dithering over whether to buy an expensive doll. A poor match-seller seeks Emily's charity, and Emily gives her a sixpence. A few days later, Emily once again sees the poor girl, this time in an even more desperate state than before. And before long, Emily learns that the girl is an orphan, and has been found, almost dead, at the side of the road. Each time, distracted by new presents, Emily, although initially very sympathetic, forgets the match-girl. She is only recalled to her charitable intentions by her kind friend, Mary, and Emily runs to her father begging him to take in the young orphan. Mrs. Hastings proposes that Emily's father subsidise a school for six poor girls, with the orphan as one of them. He agrees, but requests that Emily forego some of her luxuries because, he says, Emily deserves censure for not having supported the orphan earlier. Emily promises to yield all right to new toys, an offer which is accepted. Emily's charity makes her happier than all her toys had ever done.
Moon, Marjorie, The Children's Books of Mary (Belson) Elliott blending Sound Christian Principles with Cheerful Culitvation. A Bibliography, Winchester: St. Paul's Bibliographies, 1987
Moon, Marjorie, The Children's Books of Mary (Belson) Elliott blending Sound Christian Principles with Cheerful Culitvation. A Bibliography, Winchester: St. Paul's Bibliographies, 1987