Poetry, Verse and Rhymes; Games. 0732: Mary Belson (Elliott), My Sister
| | |
| --- | --- |
| Author: | Belson, Mary (Elliott) |
| Title: | My sister, by Mary Belson |
| Cat. Number: | 0732 |
| Date: | 1812 (date of engravings) |
| 1st Edition: | Unknown |
| Pub. Place: | London |
| Publisher: | William Darton Jnr. |
| Price: | Unknown |
| Pages: | 1 vol., 6pp. |
| Size: | 11.5 x 9 cm |
| Illustrations: | 6 coloured engravings |
| Note: | Printed on one side only. Inscription on fly-leaf: 'Will.m Scott Mould given him by Miss Canning 1818' |
Images of all pages of this book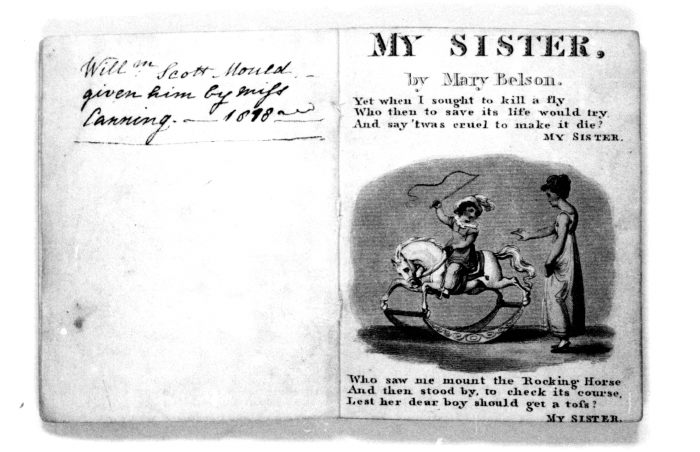 Introductory essay
My Sister was a re-working of the famous poem 'My Mother', by Anne Taylor. Anne, and her sister Jane, though only 22 and 21 respectively, had been responsible for most of the Original Poems, For Infant Minds, the astonishingly successful anthology of new verse from which this poem was taken (the Hockliffe Collection has several copies: 0851-0854). In fact, 'My Mother' was probably based on William Cowper's similarly structured poem, 'To Mary' (1793). According to Margery Moon, Cowper's poem had inspired numerous imitations (Moon 1987b: 'Introduction'). 'My Mother' had appeared in the first of the two volumes of Original Poems in 1804 (the second appeared in 1805).
Mary Elliott (1794?-1870), who often wrote under her maiden name of Belson, was a prolific author of children's books in the first decades of the nineteenth century. Almost nothing besides the date of her marriage - 1819 - is known about her. For other titles by Mary Elliott in the Hockliffe Collection see 0105, 0106, 0540, 0541 and 0768. For a checklist of Elliott's work, see Marjorie Moon's The Children's Books of Mary (Belson) Elliott Blending Sound Christian Principles with Cheerful Cultivation.
My Sister was probably first published by William Darton in 1812, as an imprint at the bottom of p.5 shows. Recounting various episodes from the life of a boy and his older sister it skilfully enjoins good, loving behaviour on both. His sister's tender concern for him teaches the brother to give up all his mischievous or dangerous occupations (like stealing his sister's new wax doll, p.2, or sliding on the ice, p.6). And any sister reading the poem would surely be encouraged to be solicitous towards a younger, troublesome brother, by the example of the girl in the book.
Moon, Marjorie, The Children's Books of Mary (Belson) Elliott blending Sound Christian Principles with Cheerful Culitvation. A Bibliography, Winchester: St. Paul's Bibliographies, 1987
Moon, Marjorie, The Children's Books of Mary (Belson) Elliott blending Sound Christian Principles with Cheerful Culitvation. A Bibliography, Winchester: St. Paul's Bibliographies, 1987