Books of Instruction. 0540: Mary (Belson) Elliott, Early Seeds to Produce Spring Flowers
| | |
| --- | --- |
| Author: | Elliott, Mary (Belson) |
| Title: | Early seeds to produce spring flowers. By Mary Elliott. Accompanied with copper-plates |
| Cat. Number: | 0540 |
| Date: | No date but c.1825-30 |
| 1st Edition: | 1824 |
| Pub. Place: | London |
| Publisher: | William Darton, 58, Holborn-Hill |
| Price: | 1s plain, 1s 6d coloured |
| Pages: | 1 vol., 25pp. |
| Size: | 17.5 x 10 cm |
| Illustrations: | Twelve pages of engravings, with two images on each page |
| Note: | Inscription on fly-leaf: 'William Henry [illegible]/The gift of his friend/Colonel Baines/15th Augt/1835' |
Images of all pages of this book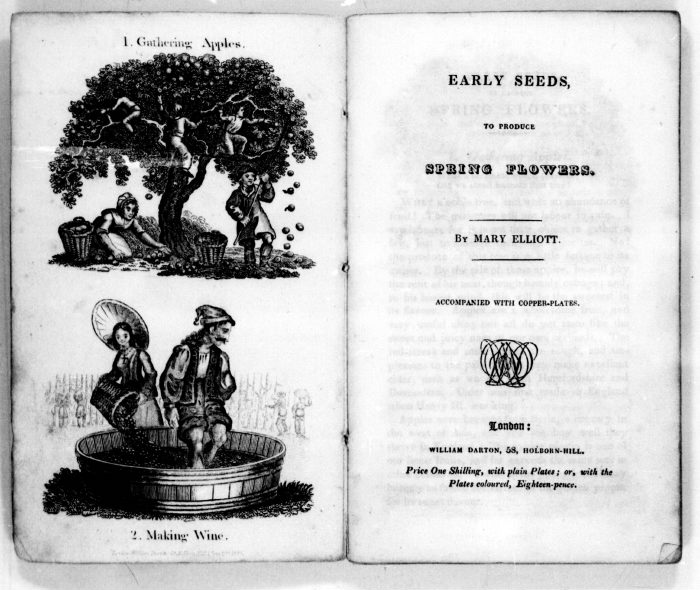 Introductory essay
The text of Early Seeds to Produce Spring Flowers is organised around the engravings. A paragraph or two explains what is shown in each image, providing either a moral or further information about the subject of the illustration. Thus on p.5f., for instance, the image of two elephants is accompanied by text explaining where elephants live, how they may be captured and tamed, what their ivory may be used for, where an elephant may be seen in Britain (either at Exeter 'Change or at the Tower of London), and even when the first elephant was seen in England (1238). Other sections of the text are more moralistic. Also on p.5, for example, alongside a picture captioned 'The greedy Girl who burnt her mouth', is a description of her fault, and a warning for other children not to be so impatient when food is served. 'This is a speaking picture,' the text explains, 'and tells its own story.' This kind of symbiotic text-image relationship derived indirectly from the long-established tradition of the emblem-book, but also has much in common which early nineteenth-century cautionary tales.
Other subjects covered in Early Seeds include:
- the making of wine and the gathering of apples, pictured in the frontispiece
- catching fish and boys' behaviour in school, pictured opposite p.7
- a fox outwitted and the rescue of a child from drowning by a Newfoundland dog (the same story as was to be seen on stage in London in 1803 and which was told at length in Eliza Fenwick's The Life of the Famous Dog Carlo: 0162), pictured opposite p.10
- the effects of climbing, and innocent sports (including skipping and playing with a hoop), pictured opposite p.10
- the story of a heedless girl and falsehood punished, pictured between pages 12 and 13
- reaping corn, and milking a cow from the wrong side (an anecdote teaching that just as country children do not know how to behave in cities, so children brought up in towns do not know how to act in the countryside), pictured opposite p.14
- brewing, and a pony with its rider, pictured opposite p.16
- the fatal effects of a fire, and the patient outwitted (or aversion to medicine overcome), pictured opposite p.18
- building a house and 'The Tiny Equipage' (a description of a toy carriage, perhaps designed for a doll), pictured opposite p.20
- the cat and her kittens and feeding a pig, pictured opposite p.24
The most remarkable engravings are probably those depicting a fire escape ladder, and the a hot-air balloon being filled with gas (pictured between pages 12 and 13).
Little is known about Mary Belson (1794?-1870), save the date of her marriage to Mr. Elliott, in 1819. She wrote her books for children under both her maiden and married name, and the Hockliffe Collection has several of her works: 0105, 0106, 0541 (which is evidently part of the same loose series as Early Seeds), 0732 and 0768. For a checklist of Elliott's work, see Moon 1987b.
Moon, Marjorie, The Children's Books of Mary (Belson) Elliott blending Sound Christian Principles with Cheerful Culitvation. A Bibliography, Winchester: St. Paul's Bibliographies, 1987