Books of Instruction. 0569J: Catherine Anne Dorset and William Roscoe, The Peacock 'At Home' ... [and] Butterfly's Ball
| | |
| --- | --- |
| Author: | Dorset, Catherine Anne, and Roscoe, William |
| Title: | The Peacock 'At Home,' by a Lady to which is added The Butterflies Ball; an original poem, by Mr. Roscoe |
| Cat. Number: | 0569J |
| Date: | No date, but c.1824? |
| 1st Edition: | 1807 |
| Pub. Place: | London |
| Publisher: | J. Harris |
| Price: | 1s 6d |
| Pages: | 1 vol., 24pp. |
| Size: | 17 x 10 cm |
| Illustrations: | Frontispiece plus 3 other plates (each with two images) |
| Note: | Part of 'Harris's Cabinet of Amusement and Instruction consisting of the most Approved Novelties for the Nursery'. Bound with 0569A-M |
Images of all pages of this book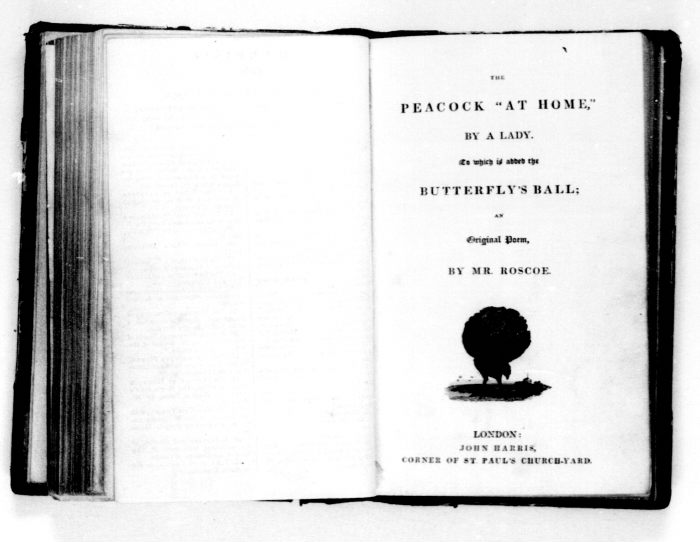 Introductory essay
William Roscoe's Butterfly's Ball was published to instant acclaim in 1807 (see 0835, 0836A and 0836B for edtions from 1807, 1808 and 1816). Amongst a whole host of imitations and sequels which immediately followed, only Dorset's Peacock 'At Home' was generally reckoned to have matched up to Roscoe's original. Indeed, some correspondents to the magazines of the day thought Dorset's work had surpassed the work which inspired it. She was even congratulated on satirising the vain and gaudy manners of the social elite (Gentleman's Magazine, 77 (November 1807), 998). If this seems unlikely, there is no denying the huge success of the work. Harris estimated that he sold 40,000 copies of the Butterfly's Ball and the Peacock 'At Home' in the year after their publication (Carpenter 1984: 397). Marjorie Moon lists eight different imprints of the poem by 1819, but points out that, judging from the large number of copies which survive, many of these editions must have gone through multiple printings. Indeed, Harris's 1819 edition proclaimed itself to be the 29th, which is not so unlikely if the multiple printings are to be counted as separate editions. For some time afterwards too, the Peacock 'At Home' continued to be published in editions which included other poems, often Roscoe's Butterfly's Ball - as in the case of this Hockliffe edition. Harris first published the two works together in 1822, according to Moon, and it seems most likely that this Hockliffe edition dates from a year or two later (Moon 1987: 39-40). As an added inducement to purchase, Harris added several pages of ornithological notes to these combined editions.
Catherine Ann Dorset (1750?-1817?), née Turner, was the sister of Charlotte Smith, also a writer for children, but most famous as a poet and novelist. Charlotte wrote several works of natural history, and the sisters collaborated on Conversations Introducing Poetry of 1804. By then, Charlotte had established herself as one of the principal authors of her day. But her sister Catherine achieved the huge success of The Peacock 'At Home' only in the year after Charlotte's death. The Peacock 'At Home' was originally published anonymously. The identity of its author was only revealed on the title-page of a new edition of 1809, which also included poems by Dorset and her sister.
The Peacock 'At Home' actually begins with a reference to Roscoe's Butterfly's Ball. All the birds feel jealous of the splendour of the festivities laid on for the insects, and they decide to hold their own party. The peacocks decide to host it, and they announce that they will be 'at home' to receive guests on St. Valentine's Day. The guests, each a different species of bird, arrive one by one, and are announced in verse. There follows a feast, at which wasps and flies are served, and then towards dawn, the company disperses in time to sing the dawn chorus. The reason for its success may have been its fusion of fun and natural history (especially in later editions, where the ornithological notes accompany the verse).
Dorset followed her Peacock with The Lion's Masquerade, also first appearing in 1807 and on a similar theme, and then Think Before You Speak two years later (see 0094 and 0569F). For this, her last major work, she changed her publisher, ditching John Harris, who had profited so much from the Peacock, and taking her work to the Godwins' 'Juvenile Library' (for more on the Godwins' publishing firm see Kinnell 1988).
Harris included this combined edition of the Peacock 'At Home' and Butterfly's Ball in the second series of 'Harris's Cabinet of Amusement and Instruction', which appeared in dribs and drabs during the early 1820s. According to Moon, John Harris's bibliographer, the first series was brought out with great rapidity in 1807, 1808 and 1809, following the huge initial success of the Butterfly's Ball. These were 'funny, imaginative and altogether different from the pious moralisings that up till now, with a few honourable exceptions, were the literature of childhood.' (Moon 1987: 153) The second series generally included more instructional material, but still in a light-hearted way. The Hockliffe Collection possesses several other works from the series - see for instance, 0175, 0194, 0196, 0569A, 0569B, 0569C, 0569D, 0569E, 0569G, 0569I, 0569K, 0569L, 0569M, 0612 and 0668.
Carpenter, Humphrey & Pritchard, Mari, The Oxford Companion to Children's Literature, Oxford: OUP, 1984
Moon, Marjorie, John Harris's books for youth, 1801-1843, revised edition, Winchester, 1987
Kinnell, Margaret, 'Childhood and Children's Literature: The Case of M. J. Godwin and Co., 1805-25', Publishing History, 24 (1988), 77-99
Moon, Marjorie, John Harris's books for youth, 1801-1843, revised edition, Winchester, 1987