Books of Instruction. 0569M: Anon., Valentine and Orson
| | |
| --- | --- |
| Author: | Anon. |
| Title: | Valentine and Orson: or the surprising adventures of the two sons of the Emperor of Greece. New edition, embellished with cuts |
| Cat. Number: | 0569M |
| Date: | 1822 |
| 1st Edition: | 1510 or before |
| Pub. Place: | London |
| Publisher: | J. Harris and Son, corner of St. Paul's Church-Yard |
| Price: | 1s 6d |
| Pages: | 1 vol., 44pp. |
| Size: | 17 x 10 cm |
| Illustrations: | Coloured frontispiece plus three further engraved plates, each featuring two images. Frontispiece dated 1 April 1822 |
| Note: | Part of 'Harris's Cabinet of Amusement and Instruction consisting of the most Approved Novelties for the Nursery'. Bound with 0569A-M |
Images of all pages of this book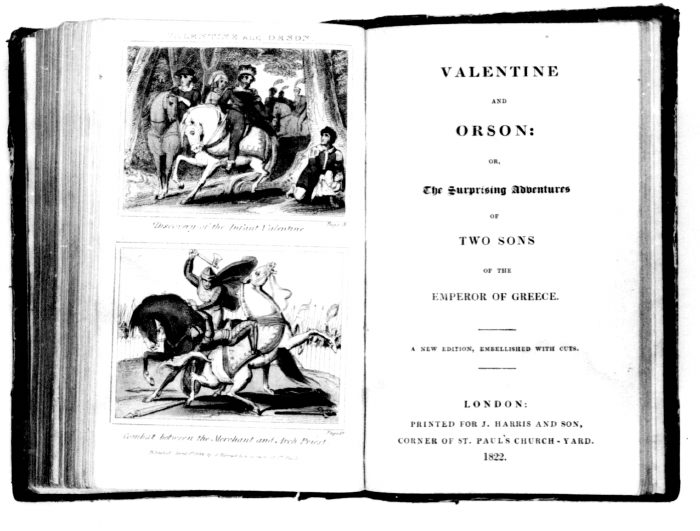 Introductory essay
The traditional tale of Valentine and Orson was in print in Britain from at least c.1505 when Wynkyn de Wordethe produced an edition by Henry Watson. There are several surviving editions from the seventeenth and eighteenth centuries, which were variously altered and abridged. This 'carefully revised' and 'interesting and instructive' version is much shorter than its forebears, though it is substantially longer than most of the works to be found in 'Harris's Cabinet of Amusement and Instruction'. Harris had first published the title in 1804, but in a longer format. In that same year appeared the other version to be found in the Hockliffe Collection, published by Benjamin Tabart as part of his 'Popular Stories' series (0717. It seems likely that both Harris and Tabart were seeking to capitalise on the fact that a performance of Valentine and Orson had just had a successful run on the stage of the Theatre Royal Covent Garden.
The narrative of Valentine and Orson remained fairly standard however much it was abridged. The wife of Alexander of Constantinople was thought to have been unfaithful, and though pregnant was banished from his lands. In the forest back in her native France she gave birth to twin sons, Valentine and Orson. Almost as soon as he was born, Orson was snatched away by a maternal bear, and while his mother gave chase, Valentine was found by Peppin, King of France, who took him to his court. While Orson is raised in the wild, then, Valentine is brought up as a prince. After some years the two brothers meet by chance and fall to fighting. Orson is subdued by the courtesy and kindness of his brother, and elects to follow him throughout the world. There follow several adventures, undertaken together. They encounter, for instance, a talking brass head, the Green Knight, and a dwarf who has built a flying-machine in the shape of a wooden horse. Eventually the identity of the brothers is revealed, and they are crowned as joint emperors of Greece. Valentine, however, chooses to end his days as a hermit.
Valentine and Orson forms part of the second series of 'Harris's Cabinet of Amusement and Instruction', published in the early 1820s. Harris had published versions of the text before. The 1804 version had run to 124 pages, and had been followed by a new edition in 1807. According to Harris's 1809 catalogue, Valentine and Orson: scenic delineations of the pantomimic spectacle, part of a series of titles based on recent harlequinades, was also available (Moon 1987: 131). According to Marjorie Moon, John Harris's bibliographer, the first series of 'Harris's Cabinet' was brought out with great rapidity in 1807, 1808 and 1809, following the huge success of William Roscoe's Butterfly's Ball. These were 'funny, imaginative and altogether different from the pious moralisings that up till now, with a few honourable exceptions, were the literature of childhood.' (Moon 1987: 153) The second series included more instructional material, but still in a light-hearted way. The Hockliffe Collection possesses several other works from the series - see for instance, 0175, 0194, 0196, 0569A, 0569B, 0569C, 0569D, 0569E, 0569G, 0569I, 0569J, 0569K, 0569L, 0612 and 0668.
Moon, Marjorie, John Harris's books for youth, 1801-1843, revised edition, Winchester, 1987
Moon, Marjorie, John Harris's books for youth, 1801-1843, revised edition, Winchester, 1987