Books of Instruction. 0602: Anon. (John Newbery?), Grammar made familiar and easy to Young Gentlemen, Ladies and Foreigners, being the First Volume of the Circle of the Sciences
| | |
| --- | --- |
| Author: | Anon. (Newbery, John?) |
| Title: | Grammar made familiar and easy to Young Gentlemen, Ladies and Foreigners, being the First Volume of the Circle of the Sciences, etc Published by the King's Authority. Third edition with additions |
| Cat. Number: | 0602 |
| Date: | 1769 |
| 1st Edition: | |
| Pub. Place: | London |
| Publisher: | John Newbery and Thomas Carnan |
| Price: | |
| Pages: | 1 vol., 152pp. |
| Size: | 9.5 x 6.5 cm |
| Illustrations: | |
| Note: | |
Images of all pages of this book Note: these have NOT been verified or catalogued. Use with care.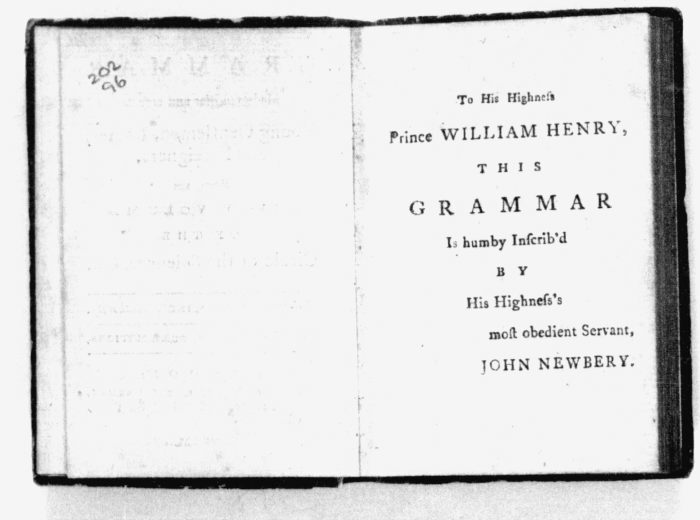 John Newbery first published his 'Circle of the Sciences' series in 1745-46. There were several changes to the consituent volumes of the series, and the order in which they were listed, but by the third edition of 1769, from which this volume comes, there were seven volumes. The contents were as follows: i. Grammar (see 0602)
ii. Arithmetic (see 1169, and 1168 for the 1748 edition)
iii. Rhetoric
v. Logic (see 0964)
vi. Geography (see 1045)
vii. Chronology
A Spelling-Dictionary of the English language (0605) had featured as an introductory volume to series in 1745, but by the second edition of 1748 it had been removed to be published separately. See Roscoe 1973: 73-82 for more details.
Roscoe, Sydney, John Newbery and his Successors, 1740-1814: A Bibliography, Wormsley, Herts., 1973