Stories Before 1850. 0095E: Anon., The Little Deserter; or, holiday Sports
| | |
| --- | --- |
| Author: | Anon. |
| Title: | The Little Deserter; or, holiday Sports; A Tale: Dedicated to All Good Boys. Embellished with Fifteen Engravings on Wood |
| Cat. Number: | 0095E |
| Date: | No date |
| 1st Edition: | Unknown |
| Pub. Place: | Edinburgh |
| Publisher: | Oliver and Boyd |
| Price: | 6d. |
| Pages: | 1 vol., 36pp. |
| Size: | 13.5 x 8.5 cm |
| Illustrations: | Frontispiece plus 14 wood engravings |
| Note: | Bound together with 0095A-0095D |
Images of all pages of this book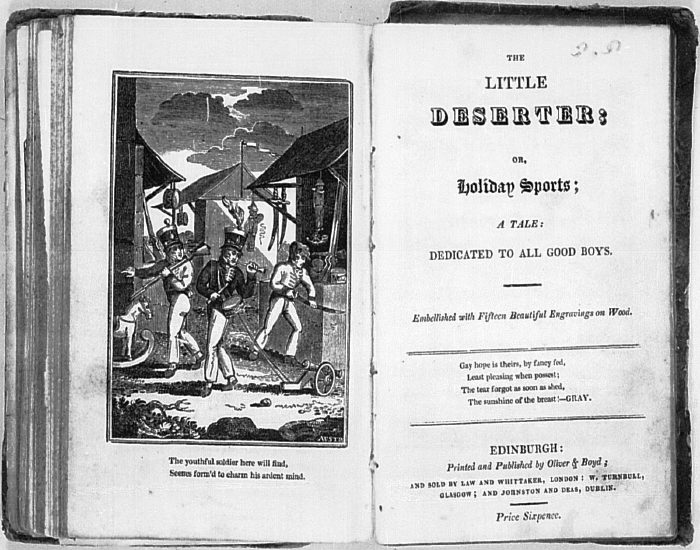 Introductory essay
The Little Deserter seems designed to fire its readers, presumably young boys, with a martial spirit. Julius, Frederick and Henry are three brothers. During the school holidays, their father offers to reward them for their good behaviour with a gift of their choice. After considering a pony and a microscope, the brothers opt for a set of military paraphernalia - uniforms and wooden guns and swords - with which they may play at being soldiers. They begin to play, their father having warned them that they must on no account take up real weapons. Frederick plays the captain, although the command is to pass from one to another in rotation, and sets his brothers, and his cousin Charles, to various military exercises - shooting, fencing, parading, and so on. The illustrations which depict these activities engagingly represent them as they appear in the boys' imaginations rather than the reality, for not only do the uniforms and weapons look genuine, but their games, according to the engravings, take place with a real castle as backdrop (e.g. p.10). Their father points out that the virtues which a good soldier exhibits are the same as those which any boy ought to possess. Above all, both ought never to be idle (pp.14-15).
Only Julius is not happy with the game. He is ridiculed by his playmates for his lack of proficiency at their military operations, and retires to bed early. The next day, his plan to desert is overhead by Charles. The other boys plan to catch him and imprison him, which they do. He is incarcerated in a genuine dungeon, with only water to drink and a stone seat to rest on. At his court martial, Charles votes that his sentence should be continued imprisonment, but Julius's brothers argue that the offence is so serious that it must be punished by death. Accordingly, Julius is executed by firing squad (pictured p.34). Leaping up after his 'execution', Julius exults that, being dead, he is now free to go off and play with his ball. The story ends with Julius warning that he will return on the next day, when it is his turn to take command.
Master Bodon, whose name appears in this book's inscription, also owned the other books bound together in this volume: 0095A, 0095B, 0095C and 0095D. The inscription is dated 1819 which gives at least a rough date of publicatin for the book. A gap between publication and ownership (as indicated by date of inscription) of less than two years is statisically normal for early nineteenth-century children's books, but a longer elapse is not uncommon (as in the case, for example, of Bodon's copy of Lucy; or, the Little Enquirer, 0095C, which was inscribed six years after publication).