Stories Before 1850. 0164: Anon., Little Matilda and her Fine Clothes
| | |
| --- | --- |
| Author: | Anon. |
| Title: | Little Matilda and her fine clothes. Embellished with 14 fine engravings on wood |
| Cat. Number: | 0164 |
| Date: | No date (but c.1816) |
| 1st Edition: | |
| Pub. Place: | London |
| Publisher: | Whitrow and Co. Jewry-street, Aldgate; and sold by all Booksellers, etc. in Town and Country |
| Price: | 3d |
| Pages: | 1 vol., 31pp. |
| Size: | 11.5 x 7.5 cm |
| Illustrations: | Front-cover vignette, frontispiece and nine further wood-engravings |
| Note: | |
Images of all pages of this book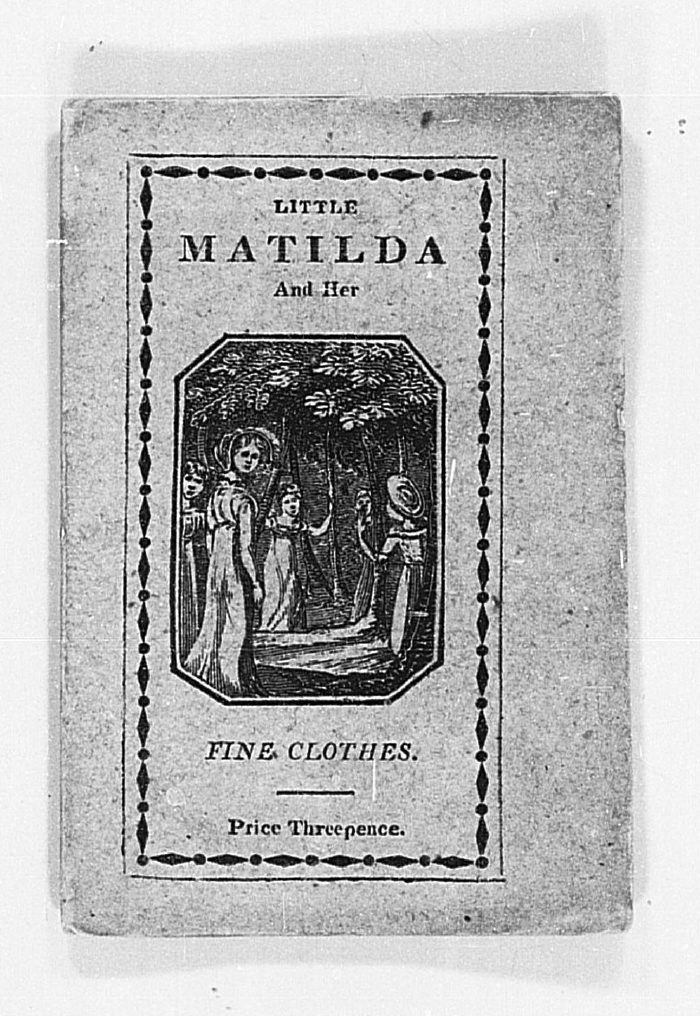 Introductory essay
The narrative of Little Matilda and her Fine Clothes is straightforward. Eight year old Matilda meets some girls of her own age who already dress as adults dress and have their hair styled as adults style their hair. Matilda has always dressed plainly, and her hair has been allowed to hang in its natural ringlets without recourse to the 'torturing iron'. But she conceives a desire to emulate her more mature friends, and begs her mother for more lady-like clothes. Her wish is reluctantly granted, but although Matilda is initially pleased with her new appearance, the clothes bring her only misery.
She invites her friends to her house to witness her transformation, but they quickly become annoyed by her vanity and conceitedness. Indeed, the clothes have made Matilda behave like a tyrant: 'anyone would have imagined that she supposed herself an empress, and considered those about her as subjected to her empire' (p.9f.). Moreover, in her new clothes, Matilda cannot join in with her friends' games:
The taste that appeared in her clothes, their vivid colour and elegance of make, charmed the eye; but when she had them on, it was evident that her limbs were under great constraint; her motions had no longer their accustomed ease and freedom; and her infant countenance, amidst so vast a quantity of flowers, silk, gauze, and ribands, lost entirely every trace of ingenuous simplicity. (p.7f.)
Matilda's friends soon run off, leaving her alone and wretched. In the attempt to follow them, her bonnet becomes caught in a thorn-bush. Soon her entire outfit is ruined as she becomes entangled in the undergrowth, and process completed when she cannot, as her friends do, outrun a storm. Eventually, having lost her hat and a shoe, and with her shift 'glued ... to her body' by the heat and the rain, she returns home. The tale concludes with Matilda renouncing her desire to appear an adult: 'I am convinced,' she tells her mother, 'fine clothes can never make the wearer of them happy. Let me take up with my nice white frock again; and have no pomatum in my hair, till I am eight or ten years older than at present.' (p.29f.)
Viewed from one perspective, Little Matilda can be read as an anti-fashion tale. As such, its theme is not unusual in late eighteenth and early nineteenth century children's literature. More unusual for this period is the book's evident recommendation that children should remain children - until they are sixteen or eighteen years old if Matilda's closing plea is taken literally. Certainly, this is a far cry from the attitude of early eighteenth century children's books which, perhaps with a Puritan inflection, had tended to understand childhood as a stage of life to be negotiated as soon as possible. Indeed, so earnestly didactic were many children's books of the later eighteenth and early nineteenth century that they too can be regarded as attempting to lead children into adulthood as quickly as possible, at least in terms of their moral or religious development.
Little Matilda, on the other hand, clearly advises adults to stand in the way of their children's desire for the trappings of adulthood. It also presents childhood as a time of innocence and closeness to nature, of freedom and joy, as we see by the behaviour and attitudes of Matilda's friends who have not become seduced by the lures of adult life. They play games (namely 'Pussey in the Corner'), chase butterflies (but do not harm them), have tea parties perhaps (as seen in the frontispiece), and are generally at one with nature. Matilda cannot join in these games, and is markedly out of place in the natural environment. Moreover, 'it was evident that her limbs were under great constraint', and she has lost her 'accustomed ease and freedom' by putting on adult clothes (p.7f.). Overall this is a very Romantic, not to say Wordsworthian, understanding of childhood. Certainly, it is very different from the early eighteenth-century construction of childhood as purely a preparation for adulthood.
Ian Maxted's The London Book Trades 1775-1800 lists Benjamin Whitrow as a 'wholesale stationer' in Jewry Street, Aldgate from 1790-1792 and in the Livery Ironmongers' Company by 1792. Whitrow joined with William Champante, a wax chandler, in c.1785 and they worked together in a variety of trades until 1816 (Maxted 1977, pp.42 and 245). Philip Brown's London Publishers and Printers records that 'Whitrow and Co.' - the imprint which appears on this book - had become the successor to Champante and Whitrow at 2 Jewry Street in 1815 or 1816. Their imprint was subsequently replaced by another, 'Nowill and Burch', from 1816 to 1819 (Brown 1982, p.222). All this suggests that Little Matilda might have been published in 1815 or 1816, a date not inconsistent with the style of the book. For a other similar books in the Hockliffe Collection published by Whitrow and Co., see The Three Cakes (0236), The Fortunate Man (0112) and The Bad Boy Reformed by Kindness (0059).
Maxted, Ian, The London Book Trades 1775-1800. A Preliminary Checklist of Members, Old Woking, Surrey, 1977
Brown, Philip A. H., London Publishers and Printers, c.1800-1870, London: British Library, 1982