Books of Instruction. 0569C: Anon., The Infant's Grammar or a Pic-nic Party of the Parts of Speech
| | |
| --- | --- |
| Author: | Anon. |
| Title: | The infant's grammar or a pic-nic party of the parts of speech |
| Cat. Number: | 0569C |
| Date: | 1824 |
| 1st Edition: | 1822 |
| Pub. Place: | London |
| Publisher: | Harris and Son, Corner of St. Paul's Church-Yard |
| Price: | 1s 6d |
| Pages: | 13pp. printed on one side only |
| Size: | 17 x 10 cm |
| Illustrations: | 11 coloured engravings (the text is engraved on the same plate as the image) |
| Note: | Part of 'Harris's Cabinet of Amusement and Instruction consisting of the most Approved Novelties for the Nursery'. Bound with 0569A-M |
Images of all pages of this book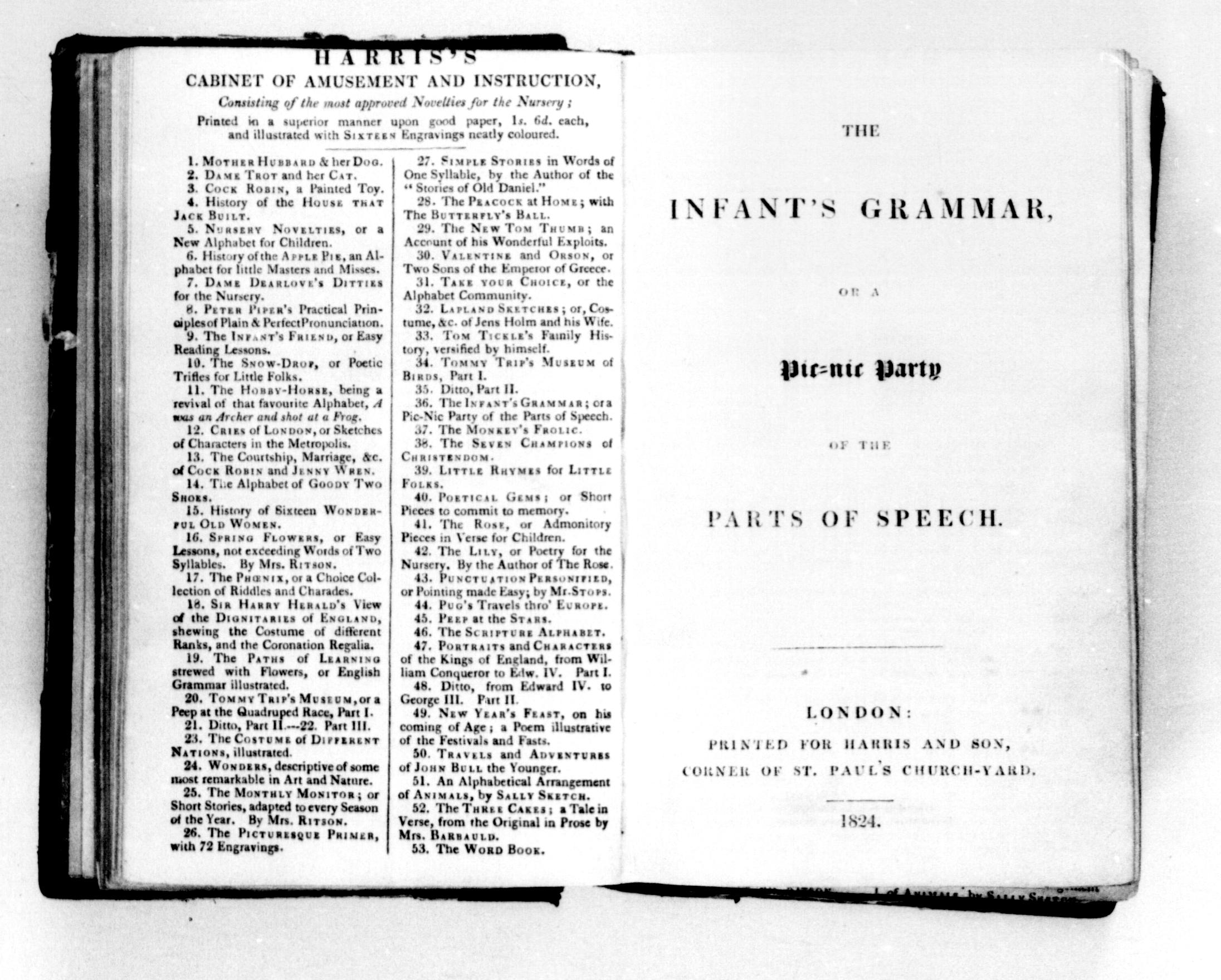 Introductory essay
Like Punctuation personified (0569D) and The paths of learning strewed with flowers (0612), The infant's grammar sought to teach the parts of speech through rhyme and image. The text here is rather more complicated than in some comparable works, and the illustrations perhaps a little less integral to the process. Fewer parts of speech are covered too. Indeed, both in subject and style, The infant's grammar is reminiscent of William Roscoe's Butterfly's Ball (0569I, 0835-0836A) or Catherine Ann Dorset's Peacock 'At Home' (0569I).
The setting is a picnic at the 'Etymology-Hall'. The articles, nouns (substantive and common), adjectives, pronouns, verbs (active and passive), adverbs, prepositions and conjunctions all attend, leaving Interjection to clean up after them ('Alas!': p.13). Where the book succeeds is that all these parts of speech are given their own character. The diminutive prepositions are busy, for instance, running amongst and between the nouns and verbs, while the active verbs are noisy and bustling and the adverbs rather sneering and judgmental.
The infant's grammar went through four editions, the first appearing in 1822 and the fourth in c.1830. This Hockliffe Collection edition was the second, from 1824. It formed part of the second series of 'Harris's Cabinet of Amusement and Instruction', published in the early 1820s. According to Marjorie Moon, John Harris's bibliographer, the first series was brought out with great rapidity in 1807, 1808 and 1809, following the huge success of William Roscoe's Butterfly's Ball. These were 'funny, imaginative and altogether different from the pious moralisings that up till now, with a few honourable exceptions, were the literature of childhood.' (Moon 1987: 153) The second series included more instructional material, but still in a light-hearted way. The Hockliffe Collection possesses several other works from the series - see for instance, 0175, 0194, 0196, 0569A, 0569B, 0569D, 0569E, 0569G, 0569I, 0569J, 0569K, 0569L, 0569M, 0612 and 0668.
Moon, Marjorie, John Harris's books for youth, 1801-1843, revised edition, Winchester, 1987