Books of Instruction. 0569I: Anon., The History of Sixteen Wonderful Old Women
| | |
| --- | --- |
| Author: | Anon. |
| Title: | The history of sixteen wonderful old women. Illustrated with as many engravings; exhibiting their principal eccentricities and amusements. Much credit is due to our artist, I ween; For such pictures as these can seldom be seen |
| Cat. Number: | 0569I |
| Date: | 1822 |
| 1st Edition: | 1820 |
| Pub. Place: | London |
| Publisher: | J. Harris and Son |
| Price: | 1s 6d |
| Pages: | 1 vol., 16pp. (printed on one side only) |
| Size: | 17 x 10 cm |
| Illustrations: | Sixteen engravings (dated 1 May 1820) |
| Note: | Part of 'Harris's Cabinet of Amusement and Instruction consisting of the most Approved Novelties for the Nursery'. Bound with 0569A-M |
Images of all pages of this book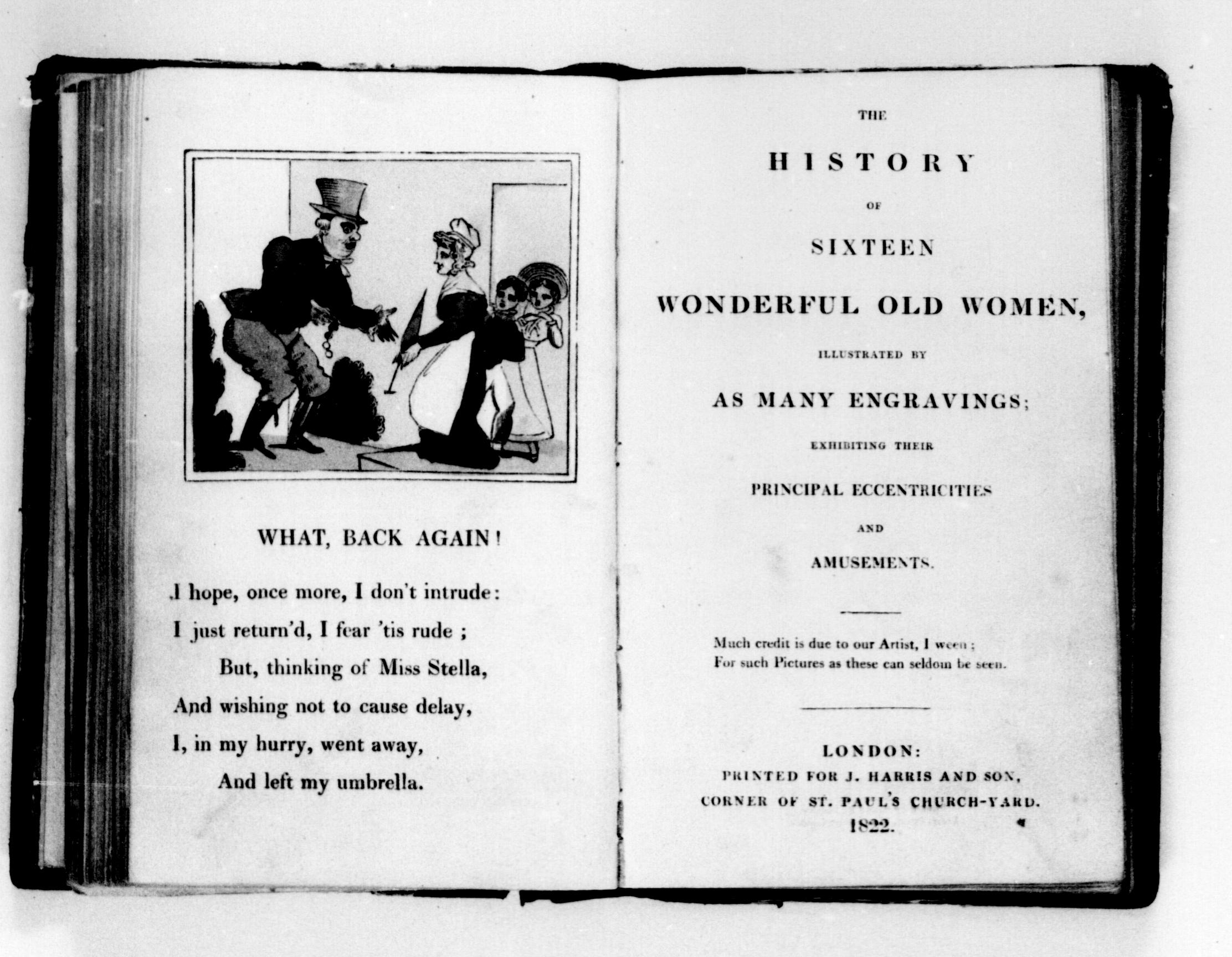 Introductory essay
The history of sixteen wonderful old women is famous for being the first ever collection of limericks. It first appeared in 1820, published by John Harris, and the Hockliffe Collection has a copy from that first edition (0841) as well as this third edition from two years later. A second edition had appeared in 1821 and a fourth undated edition was brought out in the 1830s (Moon 1987: 58).
The limerick was presumably a popular verse form in oral culture, but had apparently not found its way onto the printed page before 1820. Who the author of Sixteen wonderful old women was remains a mystery, but his or her influence was widespread. Within a few years John Marshall had published his Anecdotes and Adventures of Fifteen Gentleman and Anecdotes and Adventures of Fifteen Young Ladies (0722) in emulation of Harris's publication. These developed the limerick form by using two different words to end the first, and final, lines of each stanza whereas Sixteen wonderful old women had always repeated the first line as the last. According to his own account, it was Anecdotes and Adventures of Fifteen Gentleman which inspired Edward Lear to produce his celebrated Book of Nonsense in 1846.
The limericks in Sixteen wonderful old women mostly revolve around the theme of human folly. Almost all of the women who feature are remarkable for one fault - loquaciousness, parsimony, affectation of youth, and so on. One of the women is taken to task for her ugliness rather than any character fault (p.9), and others are pilloried merely for tooth-ache (p.10), whimsy (p.13) or excessive jubilation when a lottery win is announced (p.15). The Old Woman of Devon is simply an early riser, but the illustration makes clear that her chief delight is to 'warm her inside' with liquor (p.12). Only the Old Woman at Leeds, who features on the final page, comes off well, being praised for her charity and piety (p.16).
Sixteen wonderful old women formed part of the second series of 'Harris's Cabinet of Amusement and Instruction', published in the early 1820s. According to Moon, John Harris's bibliographer, the first series was brought out with great rapidity in 1807, 1808 and 1809, following the huge success of William Roscoe's Butterfly's Ball. These were 'funny, imaginative and altogether different from the pious moralisings that up till now, with a few honourable exceptions, were the literature of childhood.' (Moon 1987: 153) The second series included more instructional material, but still in a light-hearted way. The Hockliffe Collection possesses several other works from the series - see for instance, 0175, 0194, 0196, 0569A, 0569B, 0569C, 0569D, 0569E, 0569G, 0569J, 0569K, 0569L, 0569M, 0612 and 0668.
Moon, Marjorie, John Harris's books for youth, 1801-1843, revised edition, Winchester, 1987
Moon, Marjorie, John Harris's books for youth, 1801-1843, revised edition, Winchester, 1987