Books of Instruction. 0569D: Mr. Stops, Punctuation Personified or Pointing made Easy
| | |
| --- | --- |
| Author: | Stops, Mr. |
| Title: | Punctuation personified or pointing made easy. By Mr Stops |
| Cat. Number: | 0569D |
| Date: | 1826 |
| 1st Edition: | 1824 |
| Pub. Place: | London |
| Publisher: | John Harris |
| Price: | 1s 6d |
| Pages: | 16pp. printed on one side of paper only |
| Size: | 17 x 10 cm |
| Illustrations: | 16 coloured engravings (the text is engraved on the same plate as the image) |
| Note: | Part of 'Harris's Cabinet of Amusement and Instruction consisting of the most Approved Novelties for the Nursery'. Bound with 0569A-M. |
Images of all pages of this book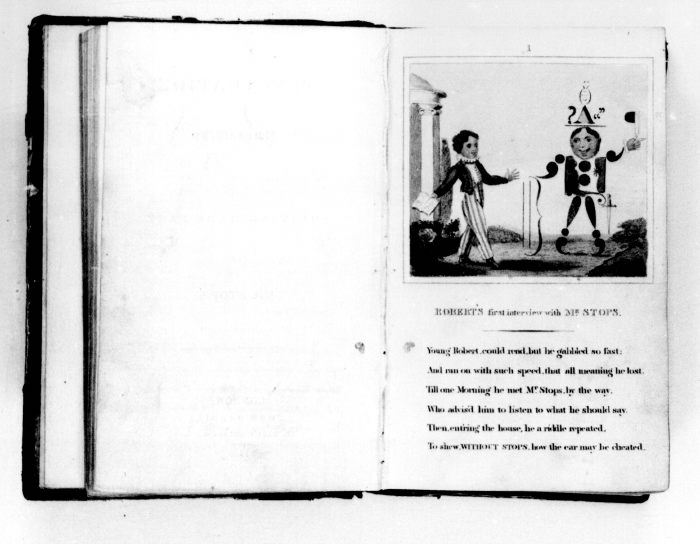 Introductory essay
Punctuation personified endeavours to teach the rudiments of 'pointing' (that is to say, the insertion of punctuation) by using verse to define the various punctuation marks and to demonstrate their use. The verses are ingenious, but the thoroughly charming illustrations to which each stanza refers are the book's chief attraction.
As the book's title suggests, each punctuation mark is personified, none more amusingly so than Mr. Stops himself, a warlike figure whose head is a full-stop, whose torso is defined by brackets, whose legs are exclamation marks, and who wears a hat comprised of a circumflex accent and a dash. It is Mr. Stops who first accosts our hero, Robert, on page 1, and promises to teach him how to stop gabbling when he reads by the use of punctuation. By the final page, Robert has apparently learned his lessons, and his sister carries a copy of the very book we have been reading in her hand (p.16).
This work formed part of the second series of 'Harris's Cabinet of Amusement and Instruction', published in the early 1820s. According to Marjorie Moon, John Harris's bibliographer, the first series was brought out with great rapidity in 1807, 1808 and 1809, following the huge success of William Roscoe's Butterfly's Ball. These were 'funny, imaginative and altogether different from the pious moralisings that up till now, with a few honourable exceptions, were the literature of childhood.' (Moon 1987: 153) The second series included more instructional material, but still in a light-hearted way. The Hockliffe Collection possesses several other works from the series - see for instance, 0175, 0194, 0196, 0569A, 0569B, 0569C, 0569E, 0569G, 0569I, 0569J, 0569K, 0569L, 0569M, 0612 and 0668.
A list of books to featuring in Harris's 'Cabinet' is often to be found at the end of these books, perhaps along with the 'logo' of the series: a roundel showing Harris's shop at the corner of St. Paul's churchyard in London. Moon notes that the book-list for the Hockliffe edition of Punctuation personified is - unusually - included before the main text (Moon 1987: 116). In fact, this is more probably the book-list belonging to the text bound before Punctuation personified, namely The Infants Grammar (0569C).
Moon, Marjorie, John Harris's books for youth, 1801-1843, revised edition, Winchester, 1987
Moon, Marjorie, John Harris's books for youth, 1801-1843, revised edition, Winchester, 1987