Books of Instruction. 0569L: Anon., Lapland Sketches
| | |
| --- | --- |
| Author: | Anon. |
| Title: | Lapland sketches or, delineations of the costume, habits and peculiarities of Jens Holm and his wife Karina Christian with accurate representations of the deer, sledges, huts, etc. as exhibited at Bullock's Museum. New edition |
| Cat. Number: | 0569L |
| Date: | 1822 |
| 1st Edition: | |
| Pub. Place: | London |
| Publisher: | J. Harris and Son |
| Price: | 1s 6d |
| Pages: | 1 vol., 36pp. |
| Size: | 17 x 10 cm |
| Illustrations: | Title-page vignette and 6 coloured engravings with two images each dated 20 May 1822 |
| Note: | Part of 'Harris's Cabinet of Amusement and Instruction consisting of the most Approved Novelties for the Nursery'. Bound with 0569A-M |
Images of all pages of this book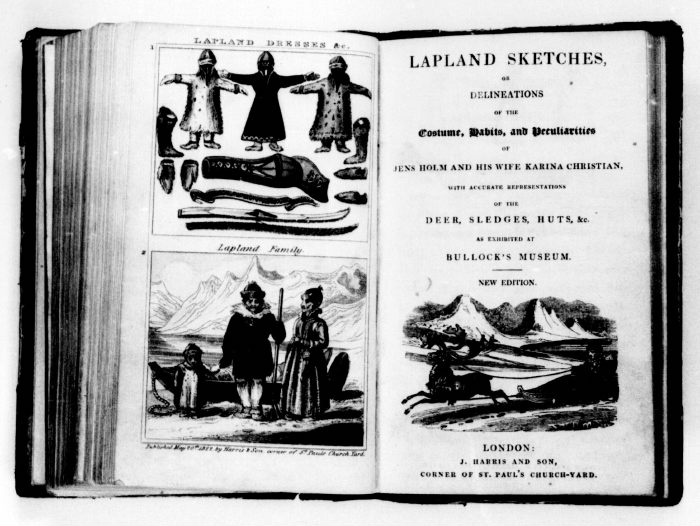 Introductory essay
The exhibition of Lapland artefacts from which this work drew its source material was held at Bullock's Museum in London in 1822. As well as sleds, harnesses and so on, the exhibition featured a live herd of reindeer and a family of genuine Laplanders, presumably Jens Holm and his wife Karina Christian, mentioned in the book's full title, who may even have lived in their tent in the musuem for the duration of the exhibition. It seems certain that Harris's publication of Lapland Sketches was a deliberate attempt to cash in on the notoriety of Bullock's exhibition. Whether Harris had the support of William Bullock, or whether he 'pirated' this quasi-catalogue must remain a matter of speculation. Certainly, Harris had a history of publishing books to tie in with recent London events. He produced several fairy tales in the early 1800s, for instance, which were prompted by, and doubtlessly designed to capitalise on, recent performances at London theatres.
William Bullock began as a jeweller and goldsmith in Sheffield. By 1808 he had founded a private museum in Liverpool. Its catalogue shows that he had already built up a substantial collection of natural history specimens, which was supplemented by many curiosities brought back by Captain Cook from the South Seas. In about 1812 Bullock moved to London. There he set up his museum in the newly-built 'Egyptian Hall', a substantial building with an impressive Egyptian-style facade on Piccadilly. It became one of the most popular attractions in London, often known as the 'London Museum'. Contemporary illustrations show the museum to have possessed an impressive collection of skeletons and stuffed animals. An exhibition of Napoleonic relics in 1816 was particularly successful, making Bullock £35,000. Bullock sold the contents of his museum at auction in 1819 and moved, temporarily, to Mexico. The Egyptian Hall continued to house temporary exhibitions, including the Lapland show and Bullock's own 'Modern Mexico' collection which opened in 1823-24. Bullock was respected in his time as a scholar as well as an impressario. He was a fellow of, amongst others, the Linnean, Horticultural, Geological and Wernerian socieites (D.N.B. and https://www.geocities.com/vverdian/Bullocks/Egyptian_Hall.html).
Lapland Sketches formed part of the second series of 'Harris's Cabinet of Amusement and Instruction', published in the early 1820s. According to Marjorie Moon, John Harris's bibliographer, the first series was brought out with great rapidity in 1807, 1808 and 1809, following the huge success of William Roscoe's Butterfly's Ball. These were 'funny, imaginative and altogether different from the pious moralisings that up till now, with a few honourable exceptions, were the literature of childhood.' (Moon 1987: 153) The second series included more instructional material, but still in a light-hearted way. The Hockliffe Collection possesses several other works from the series - see for instance, 0175, 0194, 0196, 0569A, 0569B, 0569C, 0569D, 0569E, 0569G, 0569I, 0569J, 0569K, 0569M, 0612 and 0668.
Lee, Stephen (ed.), Dictionary of National Biography, London: Smith, Elder, and Co., 1892 and after
Moon, Marjorie, John Harris's books for youth, 1801-1843, revised edition, Winchester, 1987